SteamyKitchen /
64 comments »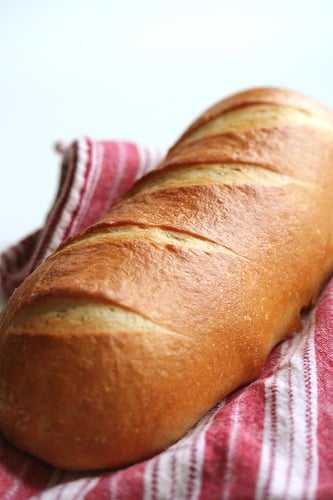 Now that I have my Bread Box bread maker, I started to get a little curious about baking the bread outside the machine, instead of leaving it in the bread box, to come out shaped like a box. I admit it's a great machine, after I burned out the motor in the food processor mixing the dough for my Parker rolls, last Christmas. I had to take it out of the processor and start using "elbow grease" doing it by hand. It did turn out great, I admit, but I did not even have a good mixer, like Kitchen Aid, which is my next search at Goodwill.
The bread machine is great for kneading the dough, and it automatically stops between cycles, so you can finish the process, shape, the bread into a perfect loaf...but wait! If you don't know the shaping, and tucking the ends in, you might as well leave it the machine, and let it do its job. You will have a very nice box shaped bread, but I am not satisfied with that. Presentation is everything, just as the taste is.I found the recipe On Healthy Home, which I follow on Twitter. Unfortunately, it does not explain the shaping of the bread, so I found a few videos, which I will also post, if I find it. --OK, just click on the link below, and watch the video.
Happy shaping. Will post bread recipe later.